CONTAINS:
Lift-Up Belt
V-line 1 Sheet x 7 packs

Lus Extra V-Line Lift Up
1. Keeps your chin up.
2. Gives Chin and neck balancing.
3. Visibly reduces the thick chin and reshapes the facial contours.

V line face without surgery!
Goodbye double chin!
Goodbye Baby fat!
Goodbye chubby cheeks!
You can achieve the results in 3-4 weeks (varies between individuals)
Reduces Facial Contour & Burns facial fat
Smoothens and firms skin
Moisturises skin with COLLAGEN
Face lifting benefit with revolutionary Neoprene

Apply 3-4 times a week.

3 steps to a visibly younger looking chin:
Step 1: Self-heating: Excess FAT Burning under the chin (Heat Sensation where you can feel the fat burning)
Step 2: Intensive Collagen: Firming your skin (contains Collagen, Vitamin F, Vitamin E
Step 3: Extra lift up: Extra face lifting with Neoprene band (giving you a balance chin and neck lift up)
Keep your chin up
Visibly reduces the thick chin and reshape the facial contour

Neoprene: The most popular and used industrial rubber sheet due to all rounded excellent quality. It helps activating the sauna effect and detoxifying the chin area. This enables effectiveness of extra lifting and burning of fats and reduces double chin. It can be reused up to 7 times. Discard after the 7 treatments. Please wash and dry it after each application for hygiene purpose
*Approved for wrinkle improved product by KFDA.


HOW TO USE:
1. Thoroughly cleanse & dry face.
2. Take out and unfold the V-Line sheet and place the V-line mask sheet on your chin.
3. Place the neoprene around your face to secure the mask and activate sauna effect. You will be also feeling strain on your jaw and cheek.
4. Remove the product after resting for 30-40 minutes and leave it on with the extract remained and do not need to wash off

CAUTION:
Avoid using on blemishes, pimples, irritated or sunburn skin.
Stop using and ask your doctor if your face turns too red, swollen or itchy during or after.
Keep out of eye. If eye contacts, rinse thoroughly with water.
Avoid using on skin which is sensitive to bandage or tape.
Avoid storing under direct sunlight or high temperature.
Keep away from children.
Tighten the band little by little every time. DO NOT over-tighten the band within a short period of time.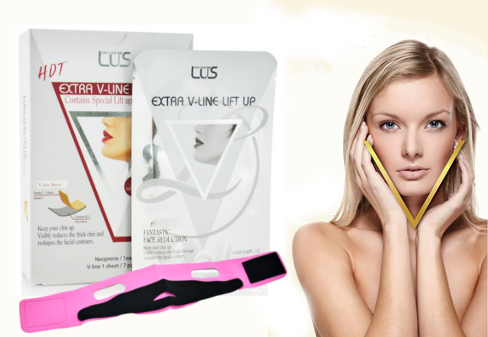 Lus Extra V-Line Lift Up